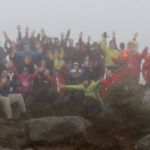 CLIMB FOR BISHOP
05/08/2017
Thanks to everyone who joined us today for the 6th Annual Explore for Bishop hike! It was wet and windy but that didn't stop us! Your support and love is amazing..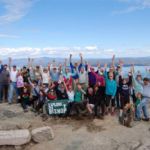 CLIMB FOR BISHOP
May 7, 2016
Hi All!
We'd love for everyone to join us at this year's 5th annual hike to remember Ryan on May 7th! We're keeping it close to home this time and plan on hiking Mount Kearsarge in Wilmot NH (Winslow State Park side) at 10AM. Weather permitting, we'll be having a cook out at the trailhead following our hike. Please find details below and we hope to see everyone there! #exploreforbishop
Where: Mt. Kearsarge (Winslow/Barlow trail) accessed from the Winslow State Park side in Wilmot NH
When: May 7th at 10AM
This is a state park so there's a small entrance fee: Adults $4, Children 6-11 $2
Leashed pets are allowed!
For more information about the trail, visit the state park website!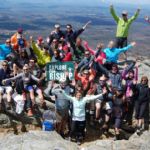 CLIMB FOR BISHOP
May 2, 2015
A big thank you to all that joined us yesterday morning for our annual hike in memory of our son Ryan. Each year we select a new mountain to explore and remember the powerful impact that Ryan had on so many people. This years hike was the Dublin trail on Mt. Monadnock. It proved to be very challenging for all 44 members of the Explore for Bishop crew. Happy to report that while this hike was more demanding than most, everyone rose to the challenge, and experienced a wonderful blue bird day at the summit...
To say " Thank you" for everyones unbelievable continued support, somehow seems inadequate. Know that we will be forever grateful for your continued love, support and encouragement as we move forward one day at time.
The Bishop's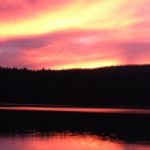 SUMMER DINNER
August 20, 2014
Thank you Doug and Jane for hosting the "Explore for Bishop" summer dinner. A wonderful evening with great friends and incredible food.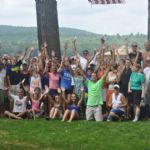 LABOR DAY SWIM
August 31, 2014
Hi All,
It's that time of year again. Please join us for our 20 something Annual Labor Day Swim across Lake Massasecum! The swim will take place on Sunday, August 31st at 10:00 am, beginning at French's park and ending at our house for coffee and snacks. Swimmers, kayakers, floaters and boaters are all welcome.

See you then!
The Bishop Family
66 East Shore Drive
Bradford, NH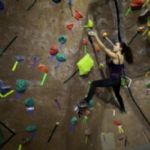 2013 Competition
November 22, 2013
Climbers from all over Utah participated in Westminster's 6th annual intercollegiate bouldering competition, held on Ryan's Wall. At the event this year, the college announced the creation of a new minor in Outdoor Education and Leadership.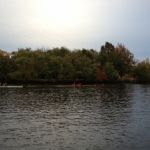 HEAD OF THE CHARLES
October 18, 2013
Peter and Laura LeBourdais rowed for Ryan at the Head of the Charles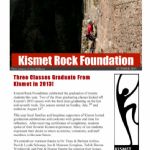 Kismet Rock Foundation featured on Chronicle
September 6, 2013
The Kismet Rock Foundation, recipient of the Ryan Bishop Outdoor Leadership fund at NH Charitable was featured on Chronicle. Go to: http://www.kismetrockfoundation.org and click on news to watch the segment.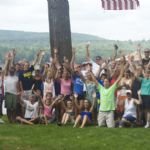 Annual Labor Day Swim
September 1, 2013
Please join us at 10:00 AM for the annual swim across the lake in honor of Ryan.
Location: Lake Massasecum, Bradford, NH.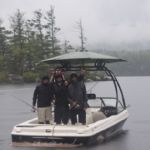 FISH FOR BISH
August 29, 2013
The 2nd Annual Fish for Bish was a success. The sun came out and the fish were biting. The "big one" was caught by the guys this year! It's now one to one...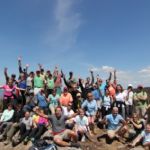 Climb for Bishop
April 28, 2013
Thanks to everyone who joined us for the 2nd annual memorial hike. The outpouring of support and encouragement continues to be overwhelming.
Location: Mt. Roberts, Moultonboro, NH
For More Information: Mt. Roberts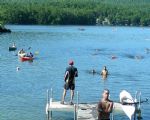 Annual Labor Day Swim
September 2, 2012
The 2012 annual swim across Lake Massasecum was dedicated to Ryan. A record number of swimmers, kayakers, boaters and floaters crossed the lake in honor of Ryan and then gathered together for coffee and munchies. It was a perfect day for the event. Sunny skies, smiling faces and good friends make the event a great success.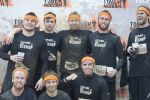 Tough Mudder New England
Saturday May 5th and Sunday May 6th 2012
The Explore for Bishop crew put together a team for Tough Mudder New England. The event took place May 5th and May 6th, at Mount Snow in Somerset, Vermont.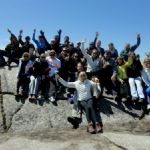 Climb for Bishop
April 28, 2012
Dozens of family members and friends climbed Mount Welsh-Dickey near Waterville Valley, New Hampshire in Ryan's memory. Those who climbed felt Ryan's spirit urging them on as they tackled the terrain and enjoyed magnificent view on this clear, blue-sky day.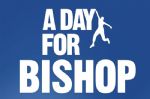 A Day for Bishop at Westminster College
October 8, 2011
Organized by students, faculty, and alumnus Corey Kirkwood of the Gear to Grow program, A Day for Bishop recognized Ryan's contributions and the impact he had on fellow students. The climbing wall at Westminster College was named Bishop's Wall and dedicated to Ryan. A gear sale, climbing demos, music and food were included in the day's festivities. As a result of the day's proceeds and contributions, six students were awarded scholarships for outdoor leadership training and certification.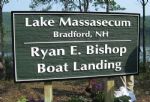 Dedication of The Ryan E. Bishop Boat Landing and Ryans Way
September 3, 2011
With thanks to Dave Currier, the Lake Massasecum community, and support from the Town of Bradford, a memorial site for Ryan was created at Lake Massasecum. The public boat launch at the lake was dedicated as the Ryan E. Bishop Boat Landing and the access road to the landing was named Ryan's Way. Ryan was a great steward of the lake and worked at the boat landing for the State of New Hampshire as a lake host for six summers.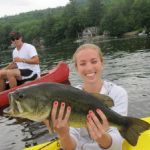 FISH FOR BISH
July 5, 2011
Fishing was a favorite pastime. In his memory, Ryan's friends held a fishing tournament at the lake. Kelsey caught the "big one" bringing victory to the ladies this year!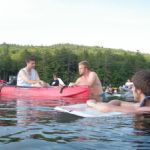 Paddle Out and Celebration of Ryan
June 17, 2011
Ryan's brother Christopher and friends paddled out on the lake in kayaks, boats, and boards to hold a paddle out memorial service. Participants shared memories of Ryan as they placed a flower on the water.
Interested in holding your own event? + Email Us